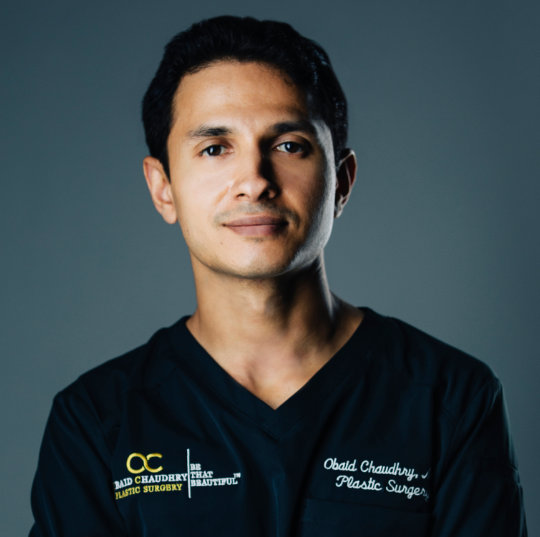 Dr. Obaid Chaudhry is a Board-Certified Plastic Surgeon based in Beverly Hills with extensive training in the realm of Aesthetic Surgery. His passion for plastic surgery started at the age of 18, when he was accepted into an accelerated medical school program directly from high school at The Royal College of Surgeons. While in medical school, he performed extensive research with multiple plastic surgeons at the University of Southern California. After receiving his MD at 23, Dr. Chaudhry elected to continue his research in plastic surgery, prior to gaining entrance into a highly competitive six-year integrated plastic surgery program. Only one training position was offered every year for hundreds of applicants, and Dr. Chaudhry was accepted into this program. After his residency program, Dr. Chaudhry was selected to complete the Aesthetic Plastic Surgery Fellowship program for an additional year of training at the Manhattan Eye, Ear, and Throat Hospital under the leaders of the field in Aesthetic Plastic Surgery. This fellowship is the oldest and most competitive Aesthetic Plastic Surgery training program in the world and has trained some of the most elite Plastic Surgeons. Dr. Chaudhry works closely with each patient to identify their goals, and aims to achieve natural-looking, refreshed results. His patients are always his priority, and he is there every step of the way during the whole process.
Dr. Obaid Chaudhry is also an innovator who developed the SmoothSculpt Liposuction and SmoothSculpt Brazilian Butt Lift. These are revolutionary procedures where downtime is minimal, and results are far superior to traditional liposuction and a regular BBL.
While not in the operating room, Dr. Chaudhry enjoys spending time playing basketball and his guitar, as well as traveling extensively around the world. His band in medical school has played numerous gigs over Europe. As a Southern California native, he is excited to bring the Be That Beautiful brand to Beverly Hills, and is also looking forward to future expansion around the country.