Be That Beautiful Plastic Surgery
Next Level Body and Butt Contouring
Welcome To Be That Beautiful™ Plastic Surgery
Achieve your best "you" with world-class plastic surgery and cosmetic procedures at Be That Beautiful™ Plastic Surgery in Beverly Hills. Dr. Obaid Chaudhry, or Dr. "O.C.," is a fellowship-trained plastic surgeon renowned for his stunning results and specialized patient care. From natural-appearing facial cosmetic transformations to striking body contouring procedures, you can "be that beautiful" with the help of our incredible aesthetic team.
You deserve to feel and look your best. Be That Beautiful™ Plastic Surgery is your source for cutting-edge procedures to achieve your aesthetic goals. It is important to Dr. Chaudhry and our entire team that every patient receives personalized care and is involved in their cosmetic transformation. We take the time to listen to our patients and discuss the best options to obtain the results they desire. You will be the center of attention during your visits and receive VIP treatment as one of our patients.
Next Generation Body Contouring
Dr. O.C. is known for his incredible body contouring procedures. From gorgeous breast augmentation and lift surgeries to enticing Brazilian Butt Lift and Tummy Tuck procedures, Dr. O.C. has a reputation for body reshaping excellence. Some of the most alluring bodies in the Los Angeles area have been enhanced with the plastic surgery skills of Dr. O.C.
Meet Dr. Chaudhry
Dr. Chaudhry specializes in aesthetic and reconstructive plastic surgery. He completed his fellowship training under the tutelage of world-renowned surgeons, thereby perfecting his technique. Dr. Chaudhry's primary focus includes popular procedures like Rhinoplasty, Mommy Makeover, Breast Augmentation, Hair Restoration, and Brazilian Butt Lift (BBL). Collectively, his facility offers medical spa treatments such as cosmetic fillers (Botox), chemical peels, full-body rejuvenation, and Awake BBL & Awake Liposuction. Based in Beverly Hills, California, Dr. Chaudhry welcomes both regional and out-of-town patients to visit the Be That Beautiful™ Plastic Surgery for invasive and non-invasive procedures.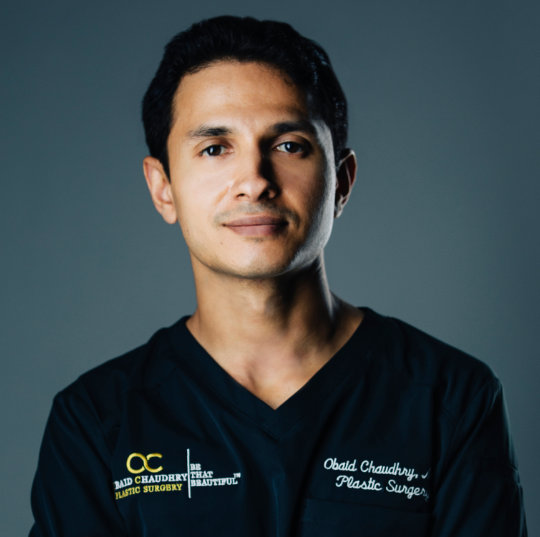 "I just want to say this was such an amazing experience I would do it 100 times or more if I could. I went to multiple doctors and no one compared to Dr Chaudhry! I heard he was the best doctor and let's just say he is!!! Let's just start by saying he always has nice Yeezys on and has good style. He makes you feel comfortable as if you've known him for many years. Antonella was the sweetest person always answering my calls and texts right away and giving me her opinion on what sizes to choose from and she's beautiful. I got my Breast Augmentation done last week didn't take any strong pain pills, this process was amazing! My results didn't disappoint. He leaves you wanting to flash everyone and feeling more confident then ever!"
"Dr. Chaudhry is literally the best surgeon in my opinion he really listened to me. Gave me his full attention and understood exactly what I wanted. He is very honest and I can't thank him enough for meeting my expectations. Thanks to Dr.chaudhry I feel really confident with my body and am in love with my results. My experience was the complete opposite of what I had in mind once I walked in I was really scared and Dr. Chaudry And his Staff made me feel so calm, safe and comfortable. Also a huge thanks to Zach for being such a great nurse. So if your ever looking for a great surgeon for a BBL I highly recommend Dr. Chaudhry."
"Dr. Chaudhry performed my bbl surgery and I couldn't be more happy with the results. He was very professional, straight forward and answered any questions I could think of. He makes sure to listen to what you want and offers the best advice regarding recovery. Fast forward to the surgery, I was very nervous, but i got the reassurance that I needed. Dr Chaudhry is a very calm person so his calmness put me at ease. The nurses and anesthesia team were extremely knowledgeable and made me feel so comfortable. 3 months post op, I love my body. I got exactly what I was looking for. My confidence has skyrocketed and I love how I look in clothes. I'm so excited to see how much more snatched I'll be once the swelling on my stomach finally goes down. Antonella, his receptionist, was so sweet to me. She made me feel so welcomed the moment I went to my first consultation. Having a surgery can be very intimidating especially when it's your first one , so I'm glad that she was able to make the experience that much easier. She was always a text or phone call away to offer great advice. This was a huge decision but I'm so glad I did it. If you're looking to get something done, Dr Chaudhry is your guy. You'll be in great hands with him and his team. You will not be disappointed"
Natural Facial Transformations
Whether you want to maintain a youthful appearance or change a facial feature, you can trust our team at the Be That Beautiful™ Plastic Surgery in Beverly Hills. We offer facial plastic surgery for rhinoplasty or facial rejuvenation, as well as non-surgical cosmetic procedures at our medical spa. We emphasize natural-appearing facial transformations that enhance your best features, from full facelift procedures to effective Botox® and filler injections.
Every aesthetic procedure we perform at Be That Beautiful™ Plastic Surgery is completed with patient safety and satisfaction in mind. We utilize the highest medical standards to exceed safety and recovery standards for our patients. You can expect exceptional care at every stage of your cosmetic procedure, from your initial consultation to your post-procedure visits.
Plastic surgery and cosmetic procedures can dramatically impact your appearance and confidence. Get the best results for your investment by choosing a highly experienced and reputable plastic surgeon for your procedure. Contact Be That Beautiful™ Plastic Surgery in Beverly Hills to schedule your appointment with Dr. Chaudhry and begin the journey to obtaining your aesthetic goals.