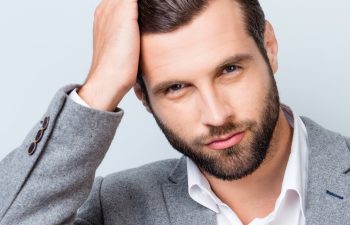 Facial aging doesn't just impact women. Men also encounter unwanted changes in their face as they get older. Due to sagging fatty tissues in the face, men often experience a less defined chin and jawline. This often progresses to form loose skin and vertical bands in the neck, creating the unwanted "turkey neck" appearance in aging men. A male facelift is designed to address these signs of facial aging. For this procedure, it is important to find a board certified plastic surgeon who can create natural, long-lasting and youthful results while preserving or enhancing desired masculinity.
A male facelift is the most sought after plastic surgery procedure for men. In the hands of an experienced and skilled surgeon, a male facelift can rejuvenate the face and neck by restoring sagging tissues to a more youthful position. In result, the chin and jawline are redefined and the presence of jowls or "turkey neck" is corrected. Advanced facelift techniques can now be used that lift the underlying facial tissues instead of simply pulling the skin tight. Incisions can be minimized and hidden as much as possible. In most male facelift surgeries, incisions will accommodate the patterns of a man's facial hair growth. They can be placed in the small cartilage flap directly outside the ear canal. This preserves bearded or hair-bearing skin and male sideburns.
A Comprehensive Approach to a More Youthful Male Face
Facial aging consists of sagging tissues, loss of volume or fat as well as wrinkled, pigmented skin. At Be That Beautiful™ Plastic Surgery, Dr. Obaid Chaudhry takes a comprehensive approach in male facelift surgery so that all of these elements can be effectively addressed. Your facelift can include techniques that restore sagging soft tissues to their more youthful position as well as methods to fill out areas of lost volume using fat transfer. Our Beverly Hills practice also offers a number of non-surgical treatments to resurface and rejuvenate the skin. Additionally, it is not uncommon for male patients to choose to combine their facelift with a blepharoplasty or eyelid lift to address sagging upper eyelid skin or puffiness around the eyes.
Regardless of the severity or type of aesthetic concerns you have, you can trust Dr. O.C. to present a tailored plan to help you achieve a balanced, attractive and more masculine look. Contact us today to schedule your consultation for Male Facelift Surgery in Beverly Hills where patient satisfaction is our highest priority.