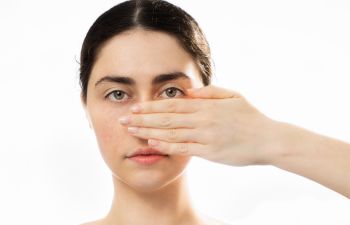 When performed correctly, rhinoplasty is an excellent way to improve your appearance and restore proper balance and proportion to your facial features. Unfortunately, when done poorly or too aggressively, both the aesthetics and function of your nose can be compromised.
Rhinoplasty is a highly-specialized area of facial plastic surgery, involving the most prominent feature on the face. Therefore, it is critical that you seek an experienced, qualified and talented plastic surgeon to correct a nose job that produced unsatisfactory results. In the Beverly Hills area, you can trust Dr. Obaid Chaudhry for revision rhinoplasty. He offers a delicate surgical hand and talented artistic eye when undoing the inferior results of a prior cosmetic procedure.
The Value of Revision Rhinoplasty
There are many reasons that patients seek revision rhinoplasty, including a residual nasal hump, widened nostrils, poorly defined nasal tip or harsh nasal characteristics. At Be That Beautiful, we will tailor your corrective nose job surgery according to your unique concerns and needs. Whether you need nostril lightening and refinement or more extensive nasal reconstruction, you can trust that revision rhinoplasty can help you reach the goals you originally set out for in a nose job.
It is not uncommon for the function of your nose to be impacted by a poorly performed rhinoplasty. If you are suffering from restricted breathing or nasal valve collapse after your recent nose job, a revision procedure may be in order. Our Beverly Hills clinic proudly offers an extensive menu of procedures when it comes to the nose, as we recognize the importance of its appearance as the central position of the face and its critical value of helping you breathe comfortably. Dr. O treats men and women using advanced open and closed rhinoplasty techniques, and he carries a keen understanding of the unique aesthetic needs of each gender.
Does your previous nose job need correction or improvement? To learn more about revision rhinoplasty in Beverly Hills, please schedule a consultation. We are confident that we can help you achieve the superior rhinoplasty results that you were meant to have.