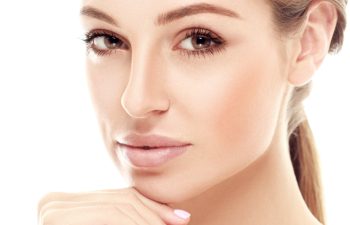 Just like other facial features, our lips lose their volume and contour over time. Aging diminishes the full and luscious appearance of the lips and may also cause surrounding wrinkles to form as the lips shrink and turn downward. In such cases, many patients turn to lip filler injections such as Juvederm® or Restylane® to regain plump lips. While these hyaluronic fillers can provide effective temporary enhancement, using fat grafts to plump the lips is considered a more natural and longer-lasting solution for youthful lips.
What is Involved with Fat Grafting for the Lips?
Fat grafting is an excellent choice for those who want a more permanent and natural correction to their thin and deflated lips. By harvesting and transferring fat deposits from your stomach, hips, or thighs, your lips can be restored to their most youthful and sensual state.
Fat grafting involves removing unwanted fat from other areas of the body using liposuction. The fat is then purified before it is strategically and precisely injected into targeted areas of the lips. This dermal fat graft works to highlight the lip border and add fullness to the lips.
The Benefits of Plumping the Lips with Your Own Fat
Since this procedure uses a patient's own tissues, it is a natural lip filler alternative that produces beautiful, long-term results. Patients can avoid the risk of synthetic fillers or other foreign implants, which is a considerable advantage for many.
While fat grafting is more invasive than lip filler injections, it is still an outpatient procedure that is generally performed under local anesthesia. Depending on the severity of your concerns, multiple fat grafting sessions may be needed to achieve ideal results. Wrinkles above the lip line can be addressed with stages of fat grafting, with the first session achieving volume and the second treatment addressing lip contour. As with any procedure at Be That Beautiful Plastic Surgery, your cosmetic treatment plan is solely driven by your individual needs and unique goals.
If you want to augment and plump your lips while slimming your body, consider fat grafting for lips from our elite group of Beverly Hills plastic surgeons. We bring a keen eye for artistry and precision when it comes to sculpting beautiful lips.