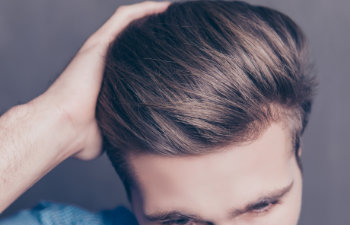 While hair loss can happen in both men and women for various reasons, male pattern baldness is the most common. In fact, nearly half of the American male population suffers from some level of hair loss by the age of 35. Balding and a receding hairline at such a prime age can be a real detriment to a man's career, relationships and self-esteem. Fortunately, there is a way to treat male hair loss, and it is easier and more natural than you may think.
Why Do Men Lose Hair?
The medical term for male pattern baldness is androgenic alopecia. This occurs when levels of Dihydrotestosterone (DHT) hormone increase, which causes the hair follicles to shrink. This rise in hormone is typically a genetic predisposition. Men tend to experience thinning hair and eventual baldness around the crown of the scalp first.
Advanced Hair Loss Restoration with NeoGraft
If you've tried hair growth products with little to no success, you may want to consider a more effective and more permanent solution. Hair transplant surgery may sound invasive or intimidating, but with NeoGraft technology, this hair restoration procedure is a superior choice for balding men.
Past methods of hair transplant surgery left linear scarring and required longer recovery. NeoGraft is today's hair restoration technology, which stands as the least invasive hair transplant available with remarkable results.
How Does NeoGraft Work?
NeoGraft relies on automated follicular unit extraction or FUE technique. This simply means that the follicular unit grafts are individually removed from the donor area of the scalp (back of head) and directly implanted to the thinning or balding areas using advanced, minimally invasive technology. Past techniques involved FUT, or "strip method" hair harvesting, which leaves visible linear scarring in the back of the scalp and can require a lengthy (and uncomfortable) recovery time.
NeoGraft Hair Transplant Technology offers the following benefits over past hair transplant methods:
No scalpel, no incisions and no stitches
No scarring
More comfortable procedure
Minimal downtime
More natural-looking results
No restricted hairstyles
To learn more about NeoGraft Hair Restoration for men, please call Be That Beautiful Plastic Surgery in Beverly Hills. Whether you are in your late 20's or early 50's, we understand the burden that hair loss can be for men. Our team is proud to offer a revolutionary hair replacement solution to restore your confidence.