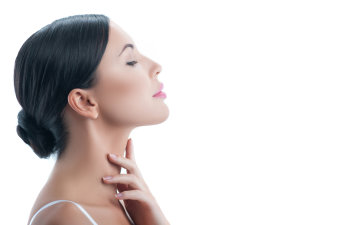 Submental fat is the fatty layer under the chin and upper neck skin. It is one of the most frustrating areas to gain fat as it is almost impossible to lose with diet or exercise. Submental fat occurs for various reasons, including genetics, aging, weight gain and hormone fluctuations. Liposuction can remove your double chin if you have fatty tissue under your chin or around your neck. But, for some people, a neck lift may be a better solution. If you have a heavy chin or neck, which is right for you?
Neck and Chin Liposuction
Liposuction is a procedure that suctions fat from a specific area through small incisions. Chin and neck liposuction are great solutions when you have submental and neck fat due to genetic or hormonal reasons. Liposuction is best performed on those within a healthy weight range and with firm and elastic skin. The procedure will remove the fatty tissue, but the skin will need to shrink to a slimmer neck and chin once the fat is removed. After liposuction is performed, a compression garment is worn on the neck to help the skin and tissue conform to the smaller size.
If age or weight gain is the reason for your fatty neck, liposuction may not be the correct procedure for you. Older individuals, usually in their fifties and beyond, tend to have looser skin and less elasticity due to collagen loss and other skin changes. Overweight individuals or those who have lost a significant amount of weight may have stretched skin on their neck and under their chin along with submental fat. Removing the fat with liposuction may leave behind loose skin, which is best removed with a neck lift surgery.
Neck Lift Surgery with Lipo
For those with a double chin or thick neck combined with loose skin, neck liposuction with a lift surgery is the best solution. Liposuction is still used to remove submental or neck fat, but incisions are also made to remove excess skin. The skin and neck tissues are elevated and tightened to create a slimmer and firmer neck area. This can eliminate a "turkey neck" or double chin. Liposuction with a neck lift is the ultimate procedure when you want a slimmer, more youthful neck and chin. Compression bandages are worn with this procedure as well as the skin and tissues heal.
If you have submental or neck fat impacting your appearance, neck or chin liposuction with or without a neck lift surgery may be the solution. To learn more about removing fatty tissue around your chin and neck, contact us at Be That Beautiful™ Plastic Surgery. We can schedule a neck liposuction consultation with Dr. Obaid Chaudry to discuss the best procedure for you. Call our office in Beverly Hills, CA, to book your appointment.