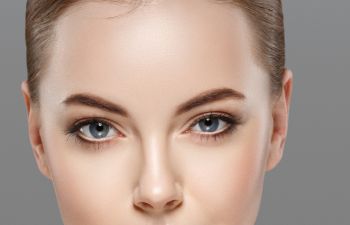 Are your eyes giving others a false impression of how you really feel? Even when you may really feel energetic and well-rested, the dark circles, wrinkles and under-eye bags around your eyes can tell a different story. In fact, under-eye bags can make you look tired, sick and aged. Fortunately, a modern plastic surgeon can help. Patients who struggle with persistent bags or unsightly shadowing under the eyes can find correction with both surgical and non-surgical procedures.
Dark Circles Under Eyes
Dark circles refer to the hallowing around the eyes that cast a dark shadow on the skin in this area. This happens faster in some individuals than others, but it is often a result of the natural aging process, or when collagen is depleted over time. The eyes are certainly not the only place that loses volume and become hallowed. However, it can be especially noticeable in the eyes due to the shadowing effect that develops around the bony structures of the brows, nose and cheeks. Fortunately, many patients can reverse dark circles with the use of non-surgical injections. Certain dermal fillers can be used to give the lower eyelid area a rejuvenated appearance.
Eye Bags
While they are a trademark of a bad night's sleep, the truth is that under-eye bags are not due to lack of sleep at all. When they don't go away after hours of quality rest, your under-eye bags are likely a culprit of aging and the unavoidable effects of gravity with this aging process. Bags can form when the fat pads around the eyeballs drop or get misplaced. This causes them to protrude under the eyes. It is not uncommon for under-eye bags to be a genetic concern that develops in late adulthood. Regardless of why it occurs, this area of chronic puffiness can make you look worn out on the outside despite feeling energetic on the inside. Similarly to dark circles, under-eye bags can be treated non-surgically with the use of facial fillers. Fillers can conceal puffiness and smooth out the areas of the eyes that are sagging. There are multiple techniques that can be used in a "liquid eye lift" to give the eyes a more rested and refreshed appearance.
A Surgical Approach for Permanent Results
If the signs of aging around your eyes have become severe or if you want a more permanent correction for your tired-looking eyes, it may be best to consider plastic surgery. For the eyes, this is often referred to as blepharoplasty, or eyelift surgery. This is a highly precise and delicate procedure that removes sagging skin and excess fat around the eyes. We can also remove areas of bulging fat above and below the eye, as well as skin folds on top of the eyelid.
Ready to rejuvenate your eyes? We can help you regain the refreshed and youthful set of eyes you deserve with our surgical and non-surgical procedures for dark circles and under-eye bags. Your eyes are said to be the "window to your soul" – are you satisfied with the story they are telling others? Call Be That Beautiful today to learn more about eye rejuvenation.